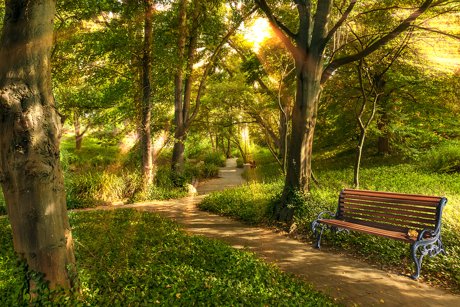 Find peace in the Glen Echo Garden on Bellingham real estate. Seven acres grow green with splashes of color delighting one and all entering its gates. Themed gardens are maintained by an expert staff. Designed to create feelings of inspiration, many garden elements are easily recreated in the garden spaces of Bellingham homes.
Whimsical wooded areas are filled with charming trails leading to and from individual gardens. Enjoy the simplicity of a classic English Garden and then compare it to a traditional Japanese garden. Imagination flows in the Stump Garden. Many may look for fairies or other woodland creatures in the Fern and Moss Garden. Vivid colors shine bright in the Blue Garden and Begonia and Fuchsia Gardens. Quiet morning meditations are often experienced in the Serenity Garden. Fountains and bridges add charming touches while benches provide ideal places to relax and soak in the beauty of the landscape.
Embrace Serenity On Woodland Paths Near Bellingham Homes
Open Monday to Saturday from 10 a.m. to 6 p.m. there is plenty of time to be spent amongst the flora and fauna. Concession stands are strategically placed about the property just in case hunger comes calling. The whole family is welcome to enjoy this piece of Bellingham real estate. Even the dog is welcomed if leashed and kept on the walkways. Take some time to smell the flowers and appreciate the little things in life at the Glen Echo Garden.